Hi Everyone! Today I'd like to introduce you to Lindsay from My Creative Days. I came across her creative blog a few months back when I clicked on this post about her awesome DIY Storage Ottomans.
And today she is guest posting here!
Isn't she a doll for doing so?
I think so!
Take it away Lindsay!
Hello! My name is Lindsay. I am mom to Landen and Gabrielle, wife to Matt and blogger at
www.mycreativedays.com
. I love to be creative in my day, my home and with my kids. I am obsessed with old wood, rusty treasures and everything in between. Finding frugal and creative ways to decorate our home, create a fabulous craft or do an activity with the kids is a passion of mine. I am new to the blogging world and I am having a lot of fun sharing my projects and ideas. It makes me happy to read comments from readers who have found inspiration from visiting my site. Come by and check out what I am creating today!
While walking through a vacant house, I spotted an old farm table in the basement. The owner said he did not want the table and was just going to leave it with the house. I asked him if he would like to get rid of it and the story ends happily with the table in my garage. :-)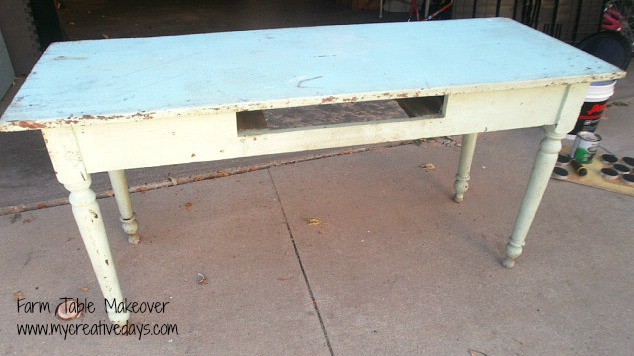 It was missing the drawer so I thought we could just make it an open shelf. Hubby said he was up to the challenge and wanted to try to make a drawer. YAY!
To make it, he used some left over wood and a white shelf we had in the garage. He measured, cut the three sides, the base and the drawer front and nailed the pieces together. After it was all done, he said the drawer was fairly easy to make. The best part..... it works! It opens and closes with ease! Imagine all the projects
he
we can tackle now with "drawer-making" skills under
his
our belt. ;-)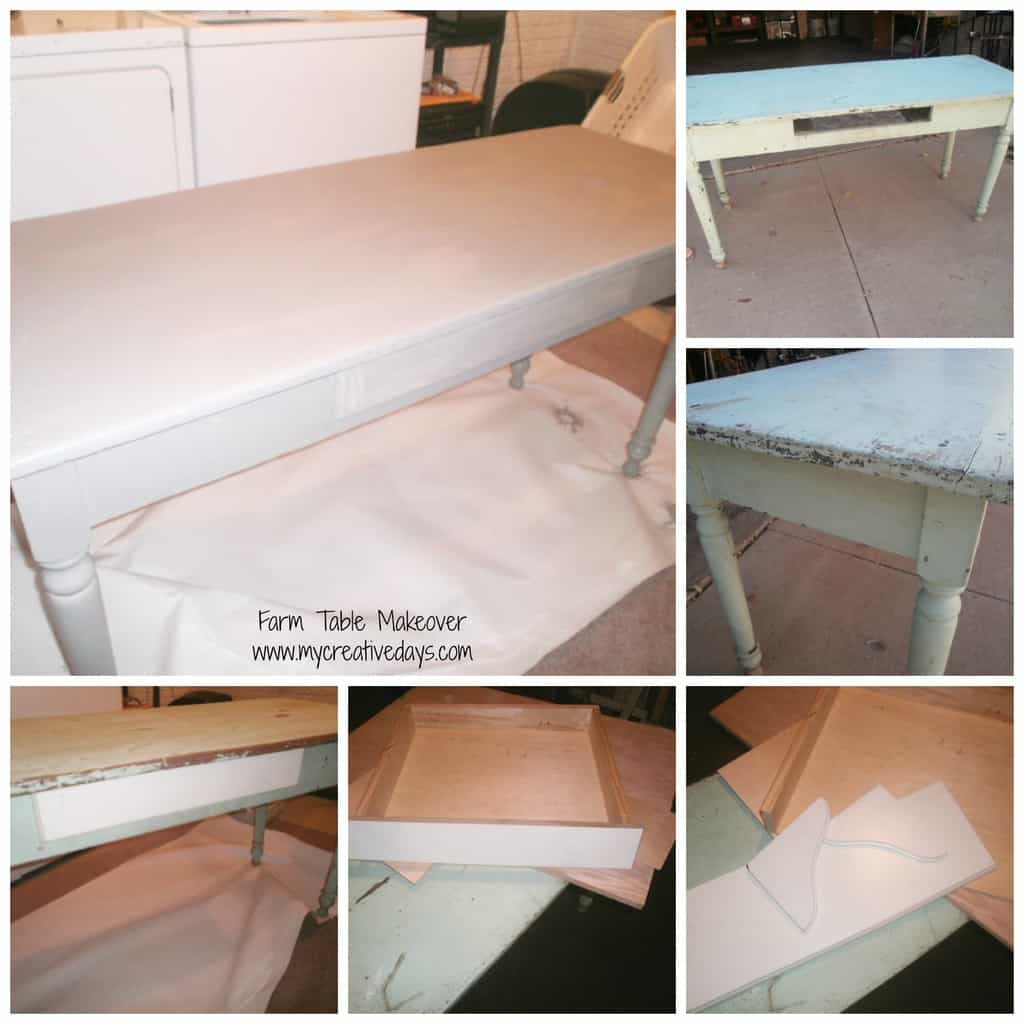 I needed to repaint the table but I wanted to try something different on the front of the drawer. I found some "stone" wrapping paper at TJ Maxx (the colors and patters were so great) that I thought would be just what the drawer needed.
I cut the paper to fit and Modge Podged it on.
I added a drawer handle that I spray painted yellow and viola ~ .this farm table is complete.
This table has come a long way from the basement of a vacant house. It is going to give me lots of room to spread out and work on. Let the creating begin.
*I am in the midst of making our guest room double as a creative space so please excuse the "incompleteness" in this picture (it is not coming together as quickly as I had planned).