One of the many things I delight myself in is organizing. I can't get enough of it!
Especially when it comes to the kitchen.
When I'm not organizing (and re-organizing) my own kitchen, I'm stalking Pinterest and other blogs to see how others are getting the job done.
I have found so many clever kitchen organization ideas and thought I'd share some of my favorite with you today!
1.) Got wall space? Then you have organization space! Put it to use by adding a magnetic strip and have all your knives hang out right there ready to be used!
2.) There's hidden space that goes unused behind your cabinet doors! Why not add some hooks and hang your measuring spoons? You can also tape your menu and grocery list to these babies and have all it all hidden!
3.) I don't think I've ever personally met anyone who has their pots, pans and baking dishes well organized...ever. But it can be done with racks! There is hope!
4.) I love how this pantry has pull out drawers instead of shelves! It makes finding everything so much easier. And those chalk labels will have you munching on your favorite snack in no time!
5.) Another great way to put the inside of your cabinet doors to use it to mount some small containers! Instant cupboard space!
6.) This wooden chalkboard helps keep the lady of the house organized. You can have your to do list, grocery list an menu ideas all in one spot! And if you don't have any space to add a chalkboard you can use the inside of another cabinet door!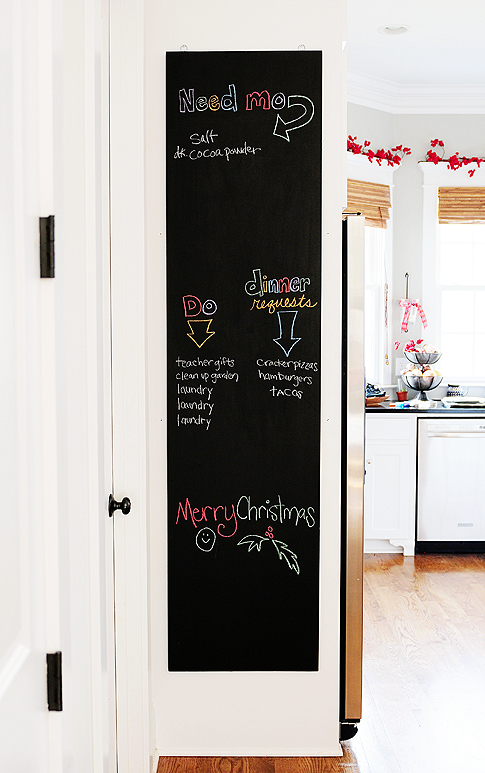 7.) And I didn't forget about your cleaning arsenal. Gain instant space by using a tension rod to hang all of your spray cleaners on! Genius!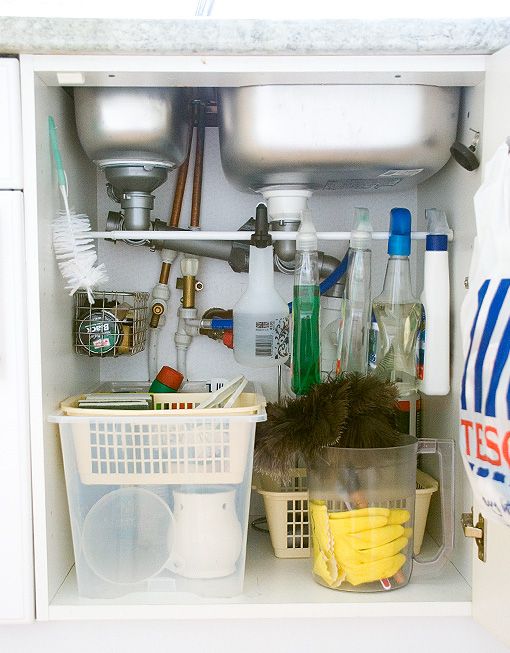 Here are some of my very own kitchen organization ideas:
8.)
DIY Drawer Dividers
: By using hobby boards, I was able to custom make my own wooden drawer dividers and keep my utensils from becoming one huge mess!
9.)
Upcycled Spaghetti Sauce Jars
: I'm starting a new foundation. it's called Save the Jars! I use mine to store all my dry goods! And even made some chalk labels for them!
What is your most useful kitchen organization technique or tip? I would LOVE to hear it- and that's not an under statement!


Why miss a post? Follow Restoration Beauty via one of the following and always be updated!
Will be partying here: MONDAY:
I Should Be Mopping The Floor
,
Give Me The Goods Monday
,
Moms The Word
TUESDAY:
Coastal Charm
,
Not Just A Housewife
,
Blooming Homestead
,
Reasons To Skip The Housework
,
Clean and Scentsible
.
Housewife How To's,
Love Grows Wild
WEDNESDAY:
DIY Crafty Projects
,
My Girlish Whims
,
Hairspray and High Heels
,
Ginger Snap Crafts
.
THURSDAY:
House of Hepworths
,
Saving 4 Six
,
The Shabby Creek Cottage
,
Somewhat Simple
.
FRIDAY:
Dear Creatives
,
The Best Blog Recipes
,
Diana Rambles
,
Chic On A Shoestring
,
Six Sisters Stuff
,
Liz Marie Blog
,
Tatertots & Jello
.
SATURDAY:
The Gingerbread Blog
,
Or So She Says (One She Two She)
,
While He Was Napping
,
,
The Girl Creative
.
SUNDAY:
Life On Lakeshore Drive
,
Suburbs Mama
The following are affiliated links: