Disclosure: I am affiliated with One Kings Lane and will be compensated for this post. However, all thoughts and opinions are my own.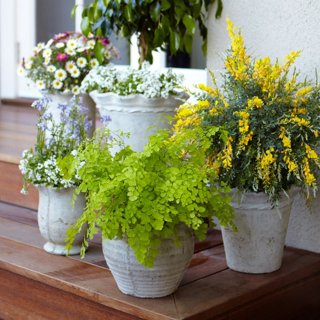 Ahh...Summer. Time to spend time outdoors. Swimming, barbecuing, soaking up some vitamin D and just hanging out with family and friends is what these hot summer months are all about.
Picture perfect, right? Yeah. That's until buzzing sounds start warning everyone that blood sucking mosquitoes are honing in ready to suck the fun out of the party! Literally.
Instead of using mosquito-repelling sprays and pesticides why not try a cluster of mosquito-repelling potted plants?
For one thing, they're prettier and are a nice addition to your outdoor landscape! And when grouped together near a seating area, on your deck or patio, they protect you and your guests!
Check out One Kings Lane's article
Easy Update: Mosquito-Repelling Potagerie
for more information about how a beautiful trio of lush potted plants will have you saying good-bye to your traditional bug spray and hello to your bug-free nice summer evenings!